Hidden among South Bank's major national institutions like the BFI, Southbank Centre and National Theatre, are a number of small and quirky, owner-run venues that bring a personal touch to South Bank's world-famous mix of attractions.
We love supporting small and in addition to South Bank's many indie food trucks and seasonal pop-ups, our friendly indie venues have plenty to offer locals and visitors. Drop by these local spots for lunch, coffee, dinner or drinks and support South Bank's independents.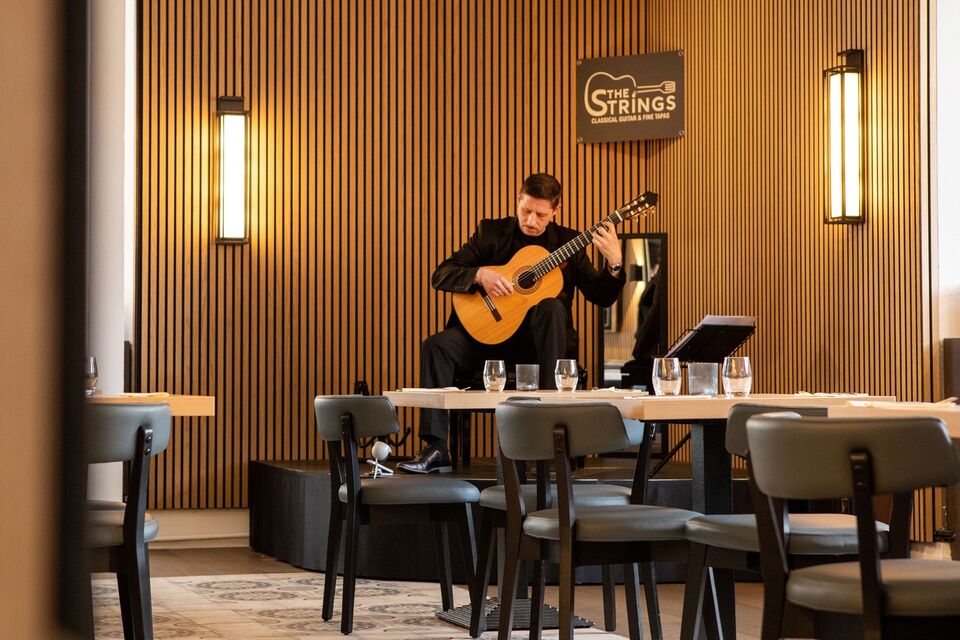 Santy Masciaro playing classical guitar at his restaurant The Strings
A husband-and-wife team pair Italian and Spanish cuisine with live classical guitar music
The Strings is a unique 'musical restaurant' at South Bank's iconic County Hall next to the Marriott County Hall hotel. Launched in 2021 by husband-and-wife team Santy Masciaro and Elise Weber, The Strings specialises in Spanish tapas and Italian cuisine inspired by Santy's Italian homeland.
An extra special feature of the restaurant is the live classical guitar music performed by Santy himself, who in addition to being a seasoned restaurateur (the pair previously ran their own restaurant in France), is also a professional classical guitarist. Located in the same building as the Agatha Christie play Witness for the Prosecution, The Strings is an ideal pre-theatre venue.
WHERE: County Hall, entrance at corner of Belvedere Road and Westminster Road. Find out more and book.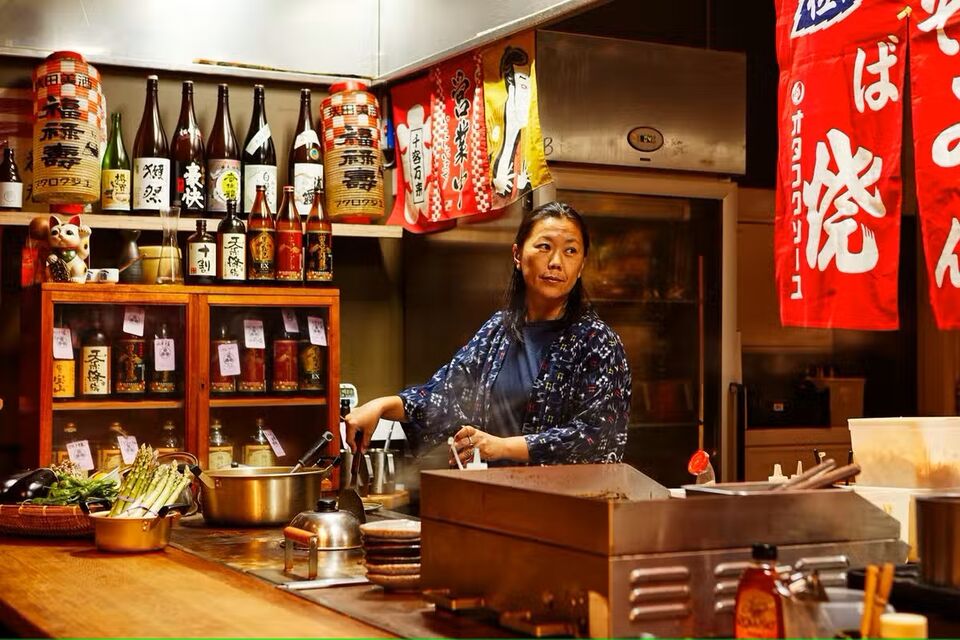 An Osakan entrepreneur shares the traditional cuisine of her hometown
Chef and Okan founder Moto Priestman arrived in London from Osaka in 1998 and has spent the past 25+ years promoting the traditional cuisine of the Osaka region to new audiences. Moto explains that when she first came to London, the only Japanese food people knew was sushi. Determined to introduce Londoners to the food of her hometown, she started a food stall on Brick Lane before launching her own restaurant in South Bank, the tiny Okan at County Hall, in 2018, specialising in okonomiyaki (a kind of Japanese pancake) and Japanese otsumami (tapas).
Okan has since grown to have four equally intimate and atmospheric London venues; in Brixton, South Bank and (since 2023) Kings Cross. Each venue replicates the same look and feel of a small, back alley Osakan dining room, complete with little more than 20 chairs (including seating at the counter in the open kitchen), that has made the original County Hall venue a firm local favourite.
WHERE: County Hall, Belvedere Road (entrance opposite Forum Mason Square). Find out more and book.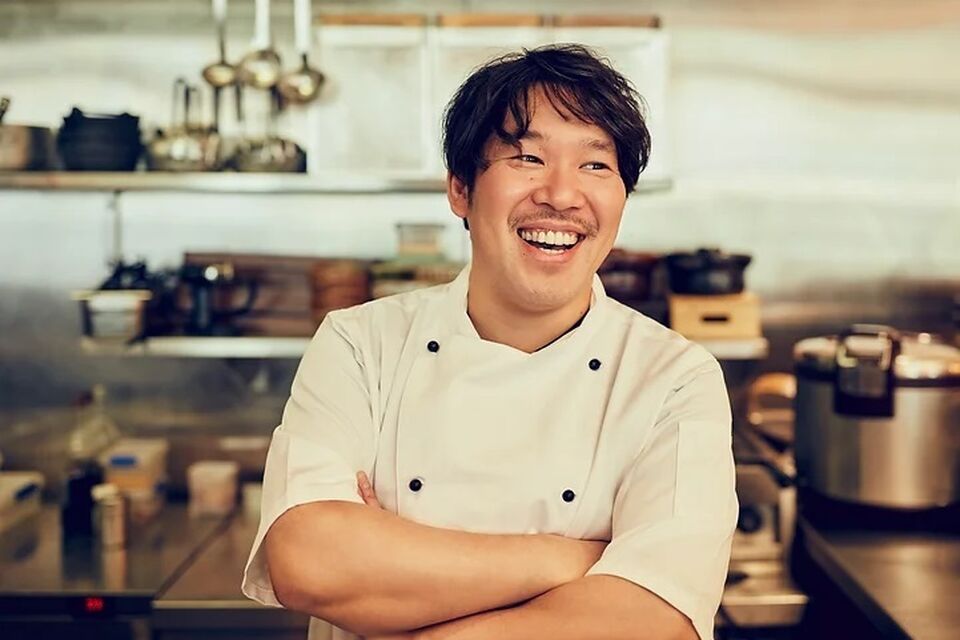 This fine dining omakase restaurant is a 'lifelong dream come true' for its Michelin-starred chef-owner 
One of London's finest Japanese restaurants, Hannah showcases a dazzling seasonal 'omakase' tasting menu. The creation of multi-talented chef and owner Daisuke Shimoyama (former Head Chef at the two Michelin-starred UMU), Hannah is known for its creative fine dining cuisine that presents the very best in Japanese culinary wizardry and exquisite tea and sake pairings (Shimoyama is also a trained sommelier).
Shimoyama launched Hannah at County Hall in 2017 after spending five years running weekend market stalls in his free time, and describes the restaurant as 'my lifelong dream come true'. The eleven-course omakase tasting dinners should be booked in advance and dishes change with the seasons. For something more casual, there's also a three-course set lunch menu served on Saturdays and Sundays.
WHERE: County Hall, Belvedere Road (entrance opposite Forum Mason Square). Find out more and book.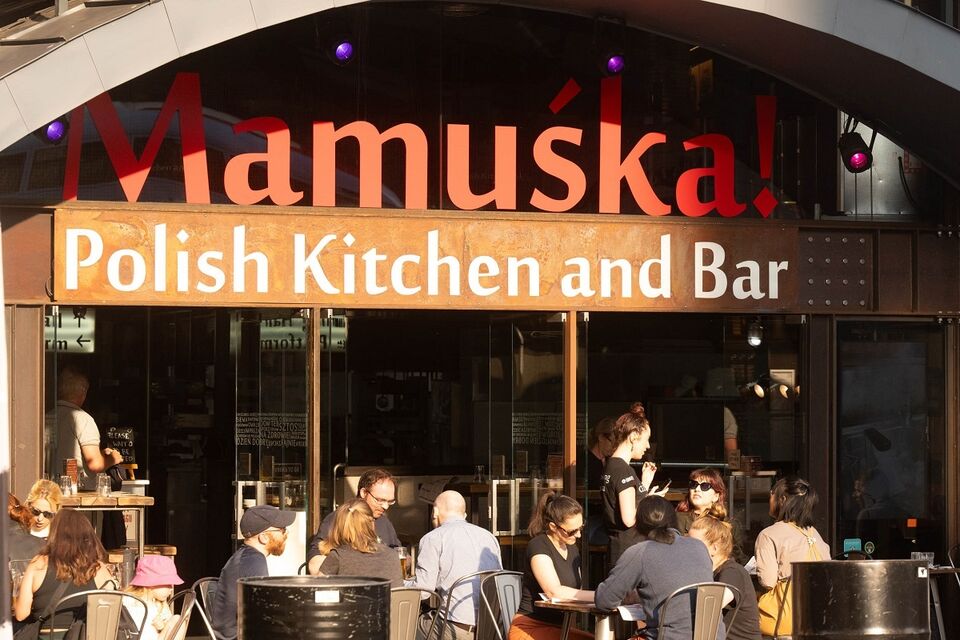 A lively little slice of Poland right in the heart of London
This Polish restaurant and bar located inside one of the Waterloo Station arches just off Leake Street, is one of London's best-known. Keen to create a home for the Polish community in south London, British-Canadian entrepreneur Ian Coll launched Mamuśka! in 2008 in Elephant and Castle, inspired by his Polish wife's food culture. In 2018 Mamuśka! moved to bigger and more central premises in South Bank and ever since they have dedicated themselves to becoming a home from home for the Polish community in London.
Ian and his largely British-Polish team are always on hand to share a friendly welcome, or even a shot of vodka or two, and Mamuśka! is well known for its great special offers that include a 20% discount across the entire menu for NHS workers from the nearby St Thomas Hospital.
WHERE: Leake Street Arches, entrance on Westminster Bridge Road (opposite Park Plaza Hotel). Find out more and book.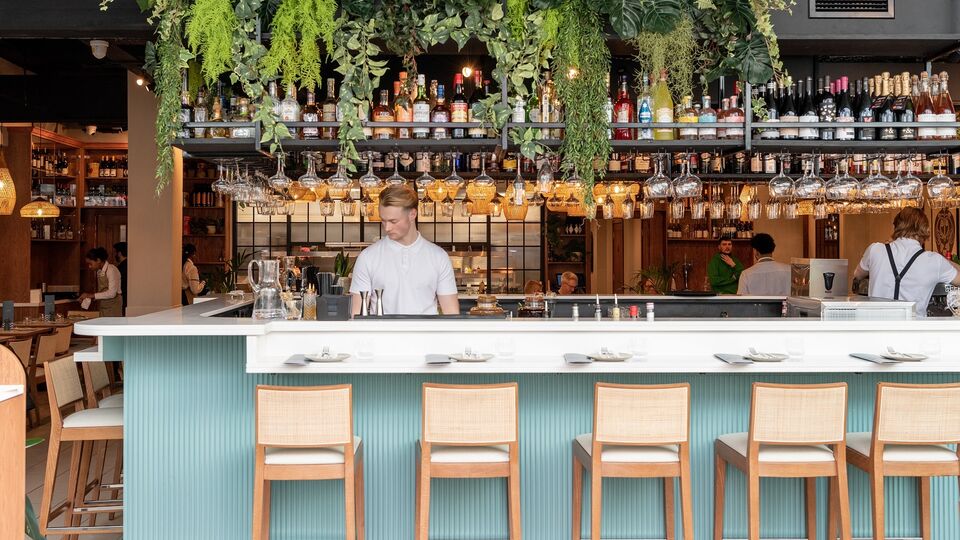 Borough Market's Applebee brothers bring their flair for seafood to South Bank
Launched in spring 2023 at the Southbank Centre, La Gamba is a sister restaurant to the acclaimed Applebee's Fish seafood restaurant and fishmongers in Borough Market. Applebee's Fish began life in 1998 as a modest Borough Market fish stall run by Joy and Graham Applebee. Their three sons Jack, Harry and Matthew now run the Borough restaurant and its new South Bank sibling La Gamba.
After a few years spent dabbling in summer pop-ups in South Bank, in 2022 the brothers decided to open a permanent Galician tapas and wine restaurant, La Gamba, in a prime location right on the Queen's Walk at Royal Festival Hall. It has since has quickly become one of South Bank's most popular spots.
WHERE: Royal Festival Hall at Southbank Centre, entrance on the Queen's Walk next to Golden Jubilee Bridge. Find out more and book.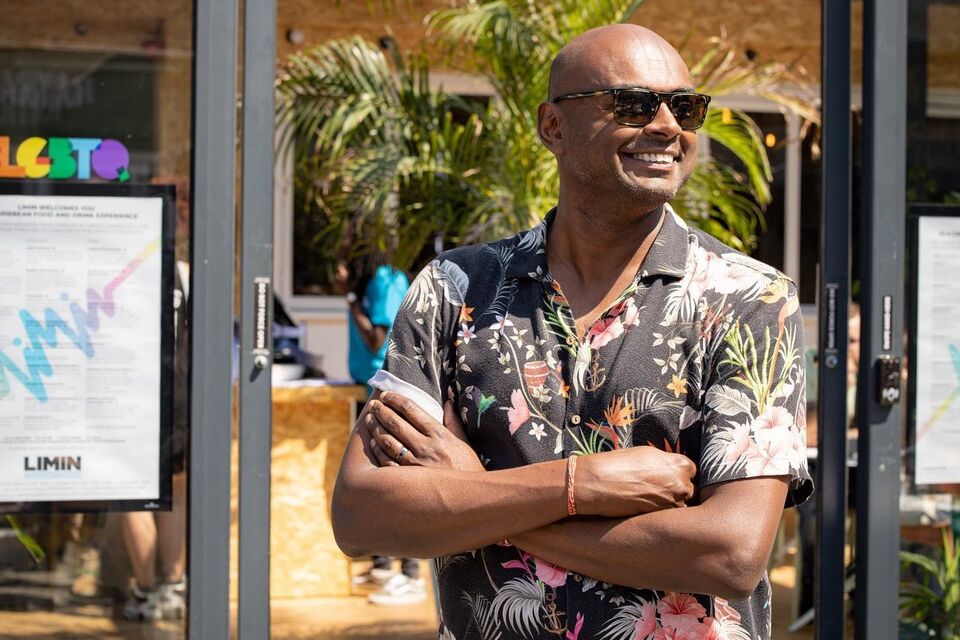 A Trinidadian chef-entrepreneur brings the authentic tastes of the Caribbean to central London
Regular visitors to Gabriel's Wharf will no doubt know Sham Mahabir, the super-friendly owner and chef at Trinidadian restaurant and bar Limin'. Sham moved to the UK from Trinidad more than 20 years ago. He left the insurance industry to help run a wildly successful pop-up rum bar in Spitalfields, before deciding to pursue his dream of opening his own restaurant. When a space came up in South Bank, he leaped at the opportunity to launch one of the only Caribbean restaurants in Zone 1.
Known for its authentic Trinidadian cuisine, soca music and Sham's excellent rum punch, Limin' is particularly popular with the local Caribbean community. In the warmer months, the Caribbean gets even closer to South Bank when Limin' opens its summer beach terrace right in the heart of Gabriel's Wharf.
WHERE: Gabriel's Wharf, entrance on the Queen's Walk or Upper Ground (next to Bernie Spain Gardens). Find out more and book.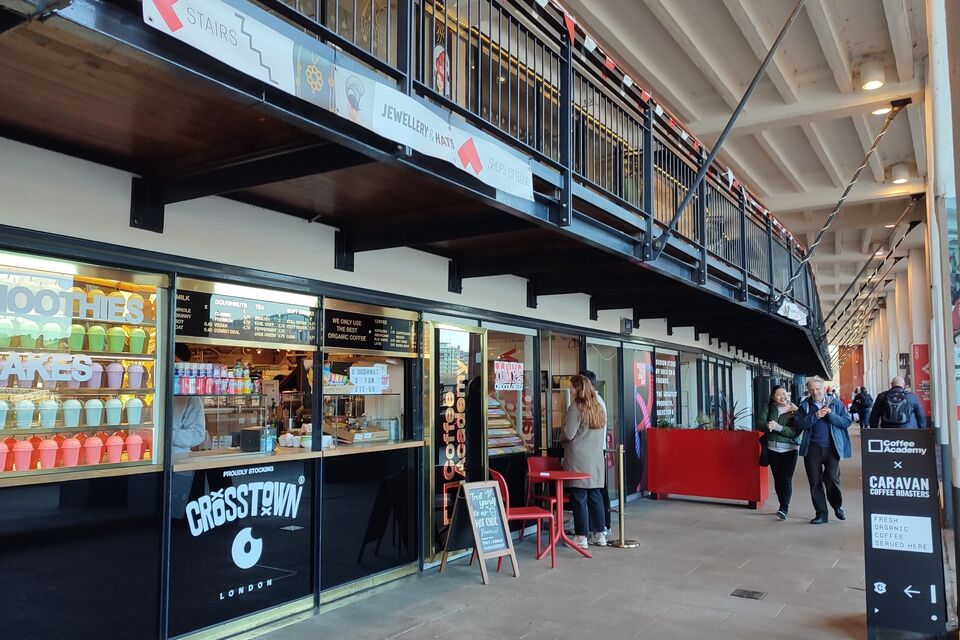 Coffee Academy
The finest Fair Trade coffees and delicious doughnuts to go
This small independent artisan coffee bar is part of Brand Academy, a unique gift shop at the Oxo Tower that sells quirky designs created by dozens of local independent makers and designers. Coffee Academy arrived at the store during the early months of the pandemic and from day one its handy takeaway window situated right on the Queen's Walk proved a roaring success.
In addition to excellent organic Fairtrade coffee by Caravan Coffee Roasters, Coffee Academy sell outrageously delicious doughnuts by London's leading artisan doughnut bakery Crosstown and a choice of shakes and smoothies. Grab a coffee and doughnut to go or find a seat at one of a handful of tables out front and enjoy the prime riverside views.
WHERE: Brand Academy at Oxo Tower Wharf (entrance on Queen's Walk).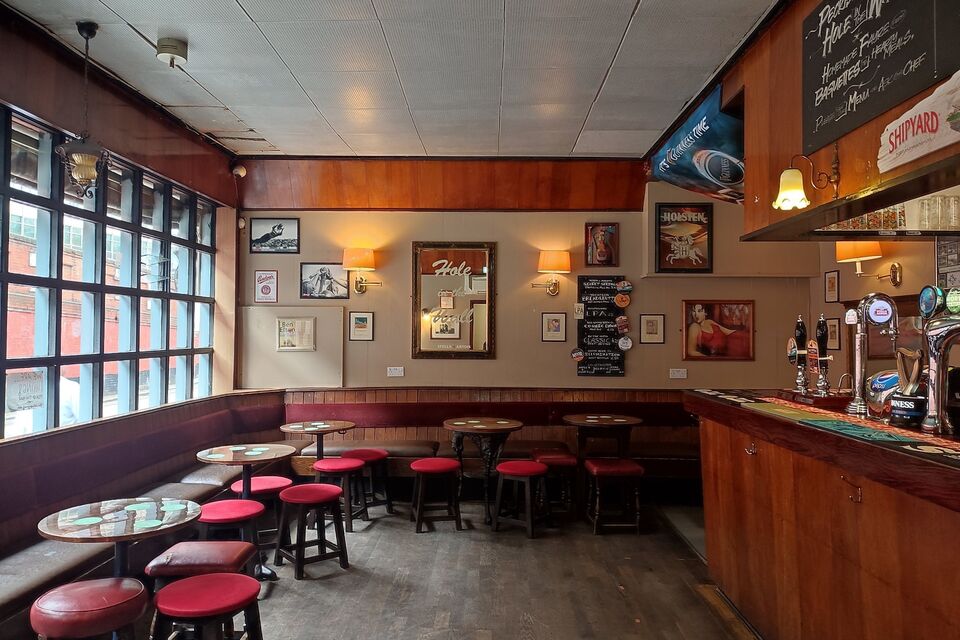 A commuter favourite serving up interesting cask ales from across the UK for more than 75 years
A stone's throw from Waterloo Station, this quirky little gem occupies one of the railway arches and for decades has been popular with commuters, rail workers, Waterloo residents, visitors and all kinds of other people who pass through London's busiest train station every day. Inside the décor has barely changed since the 1970s, which is just how they like it, and the pub embodies a down-to-earth classic British boozer charm that is impossible to imitate. In short, consider this pub a local institution!
The Hole in Wall first opened in 1947 as a cider house. In 1959 the pub landlord and his wife bought the lease turning it into the friendly, family-run Free House that is still going strong today. There's a firm focus on preserving the hallmarks of the old-school British pub experience such as cask ales (there are six to choose from in addition to 28 beers on tap), 'sensible' prices (this is easily the most affordable pub in the area), friendly staff and an eclectic clientele and for almost a decade The Hole in the Wall's cosy front room has played host to a Sunday night Irish folk session that is as authentic as they come.
WHERE: 5 Mepham Street (opposite Waterloo railway station Victory Arch entrance). 
Pagination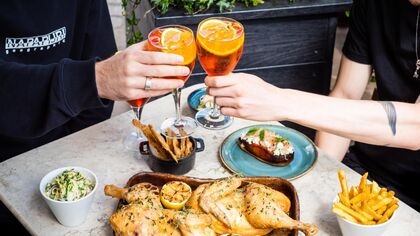 You might also like...