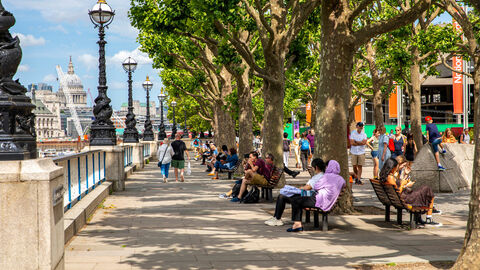 Contact
South Bank London is the official destination management platform for the entire South Bank area, spanning the riverside from Lambeth Bridge to Blackfriars Bridge. We are owned and managed by South Bank BID and South Bank Employers Group.
We are unable to assist with booking or ticket enquiries for each of the venues located in South Bank. Please contact the relevant venue directly for the most up to date and reliable answers.
If you are a business located in South Bank and would like to be listed or include an event on our website, please get in touch.
Filming & Photography
South Bank's iconic central London backdrops provide standout settings for film, TV and photography shoots. The land in South Bank belongs to various different landowners and prior permission for commercial or editorial photography and filming needs to be obtained from the relevant landowner.
If you are taking photographs/ filming for anything other than personal use, note that security staff may approach you if it transpires you are filming without written permission.
SOUTHBANK CENTRE
Areas include the portion of the Queen's Walk from the London Eye to Waterloo Bridge, the Royal Festival Hall, Queen Elizabeth Hall, Hayward Gallery and surrounding walkways, and the space between here and Belvedere Road.
Find information about filming on Southbank Centre land here.
COIN STREET COMMUNITY BUILDERS 
Areas include the stretch of Queen's Walk between National Theatre and Sea Containers London hotel, the Oxo Tower Bargehouse, Bernie Spain Gardens, Gabriel's Wharf and Observation Point with its famous view of St Paul's.
Find details on filming and photography on Coin Street land here.
LASTMINUTE.COM LONDON EYE 
All filming and photography must be booked in and approved by the Press Office in advance. Permissions can only be granted for certain kinds of projects and using certain kinds of equipment.
Find guidelines for applying for filming permissions at the London Eye here. 
JUBILEE GARDENS TRUST
Unfortunately, the Jubilee Gardens Trust does not allow for any commercial filming or other commercial activity in the gardens space that is cared for as a community space.
NATIONAL THEATRE 
National Theatre's iconic architecture and riverside views have often been used on film.
Find information on applying for filming permissions on National Theatre land here. 
WATERLOO STATION
For commercial filming permissions at Waterloo Station, contact Network Rail.
You can find Network Rail's planning permission guidelines here.
LEAKE STREET
For filming permissions in the iconic Leake Street graffiti tunnel contact LCR Property. 
For more information on obtaining filming permissions and planning shoots check out filmlondon.org.uk's filming permissions guide.