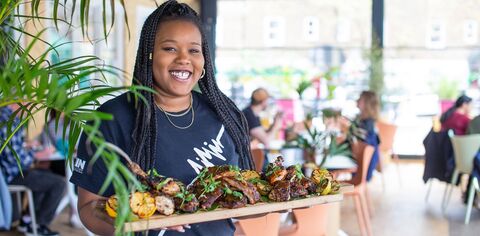 Limin' South Bank
Colourful Caribbean beach-bar and restaurant serving spicy Trinidadian flavours.
Opening Hours
Sun–Thu: 12pm–11pm
Fri & Sat: 12pm–12am
Contact Info
Address

LIMIN SOUTHBANK, Upper Ground, London, UK
The warmth and welcome of the Caribbean come to South Bank at this authentic Trinidadian restaurant, bar and beach club. 
Located at the quirky Gabriel's Wharf courtyard next to the OXO Tower, Limin's is the only Trinidadian restaurant in central London. You won't find zinging flavors like this anywhere else in this part of the city!
The menu is a mixture of sharing platters and small bites with tons of traditional Trinidadian favourites such as lobster dumplings, jerk chicken, Limin's classic marinated pork ribs and 'doubles', a Trinidadian classic of hand-stretched, fried flatbread with spiced chickpeas, tangy tamarind sauce and sweet mango jam.
This is food to be enjoyed with good company, and as many Trinidadian dishes are entirely plant-based it's a great place to eat out if you are looking for delicious, veggie food.
When it comes to the drinks, of course the rum cocktails and punch are stars of the show. Trinidadian owner Sham Mabhir certainly knows a thing or two when it comes to rum!
In the summer months when the bar opens out in the courtyard with its iconic sandy beach bar area, the drinks, music and sand under your feet all come together to create that upbeat island vibe.
Limin' (pronounced 'Lime-in') is a Trinidadian expression that refers to relaxing in good company with food, drink, music and lots of laughter. When the warm weather kicks in, this place more than lives up to its name!