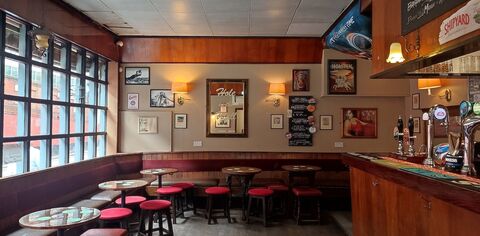 Hole in the Wall
This quirky little gem inside one of the Waterloo Station railway arches is a local institution.
Opening Hours
Mon–Fri: 12pm–11pm
Fri & Sat: 12pm–11:30pm
Sun 12pm–10:30pm
Contact Info
Address

The Hole In The Wall, Mepham Street, London, UK
Opened in 1947, The Hole in The Wall is a South Bank institution! 
A stone's throw from Waterloo Station, this quirky little gem is located inside one of the railway arches right opposite the Victory Arch entrance to Waterloo Station. Inside, the decor has hardly changed over the decades and there's a friendly and down-to-earth dive pub charm that you won't find anywhere else.
A firmly independent pub that is dedicated to maintaining the best of British pub traditions, The Hole in the Wall proudly has six different cask ales behind the bar as well as more than 25 different beers on tap, including plenty of brews from local independent breweries.
An eclectic mix of clientele that includes everyone from office commuters and cinema-goers to railworkers, passing tourists and rugby lovers on their way to Twickenham, all add to the pub's unique old-fashioned charm. There's also an admirable dedication to 'sensible' pricing that you will be hard-pressed to find anywhere else in central London.
Add in Irish folk music sessions every Sunday from 5pm and you have the ideal little spot to sit a while and put the world to rights after a pint or two.