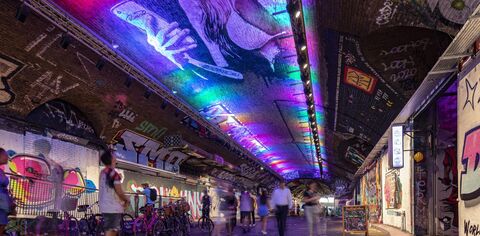 Leake Street
Meet local street artists and hang out at quirky bars in this famous graffiti tunnel.
Opening Hours
The tunnel itself is a public space linking South Bank to Waterloo and is open 24 hours a day. The opening times of the different venues on Leake Street varies.
Contact Info
Address

Leake Street Arches, Leake Street, London, UK
Linking South Bank and Waterloo, the epic 300-metre-long Leake Street tunnel that crosses beneath the tracks of Waterloo Station is the unofficial centre of south London graffiti culture. 
Every inch of space is covered with a forever-evolving collection of street art murals and anybody is free to come and leave their mark on the walls. Before it was a hub for graffiti and street art, Leake Street was part of the road entrance to the old Eurostar terminal. After the Eurostar moved to Kings Cross, street art legend Banksy spotted the site and took it over as the venue for his 2008 Cans Festival.
The street has been on the up ever since and is now a famous place to come and take fun photos while watching top local graffiti artists at work.
Leake Street also now has an annual Artist in Residence who leads graffiti workshops for amateur enthusiasts and who curates a regular series of murals and portraits in the tunnel. The 2023 resident artist is Marc Craig (aka Max The Virus). You can follow his work here on Instagram.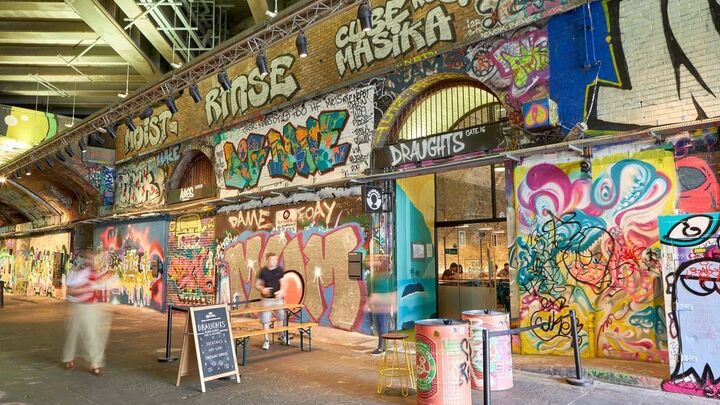 Where to eat & drink on Leake Street
The arches that lead off Leake Street tunnel are also home to a lively collection of bars and pop-up event venues:
Draughts South Bank's very own board games bar offers a choice of over 1,000 unique table games, which can be enjoyed with local craft beers and pub food.
Passyunk Avenue This all-American Philly dive bar is popular with American expats and fans of American sports from elsewhere and is famous for its American beers, wings, Philly cheesesteaks and late-night screenings of the biggest US sporting clashes.
Mamuśka Just off Leake Street and opening onto Addington Street, Mamuśka is a classic Polish restaurant and bar with a distinctive industrial-chic meets Polish milk bar aesthetic.