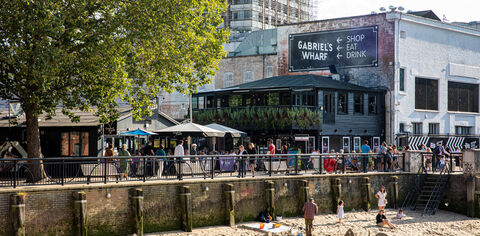 Gabriel's Wharf
An eclectic mix of independent boutiques, street food and restaurants.
Opening Hours
Gabriel's Wharf is open all day, every day. For individual restaurant and shop hours, do check with each venue individually.
Contact Info
Address

Gabriel's Wharf, London, UK
Escape the bustle of the West End and head to Gabriel's Wharf to find truly unique gifts and a relaxed shopping experience. This arty enclave offers design-led shopping, from jewellery and fashion, to fair-trade furnishings and affordable artwork. Relax in one of the cafes and restaurants which enjoy spectacular views of the river Thames.
Gabriel's Wharf is a riverside shopping and dining destination on London's South Bank. Offering design-led boutique shopping, from bespoke jewellery and vintage fashion to affordable artwork, as well as a wide range of cuisines including delicious gourmet pizza, colourful Caribbean lunches, and mouth-watering Mexican street food.
Escape the hustle and bustle of the West End and experience something different.