This festive season a new 'immersive Christmas dive bar' is popping inside one of the underground vaults off the Leake Street graffiti tunnel.
Humbug is the creation of Secret Speakeasy – a brand-new production team from the co-founder of Backyard Cinema and an executive producer from Immersive Everywhere.
What is Humbug?
Bringing together heavy-weight production design and top-class storytelling inspired by everyone's favourite Christmas songs, movies and memories, this is the ultimate festive immersive party night.
Facing the pressures of the North Pole and his bustling workshop, Santa has left the grotto and retreated to his favourite dive bar in the hope of restoring himself to the jolly guy that everyone loves.
Along with some of Santa's closest friends, guests will be tasked with bringing their Christmas A-game, ready to restore Santa back to good 'elf in time for the Christmas rush.
The evening begins with a fun-filled two-hour performance where guests' choices and interactions bring the performance to life, followed by a two-hour DJ after-party.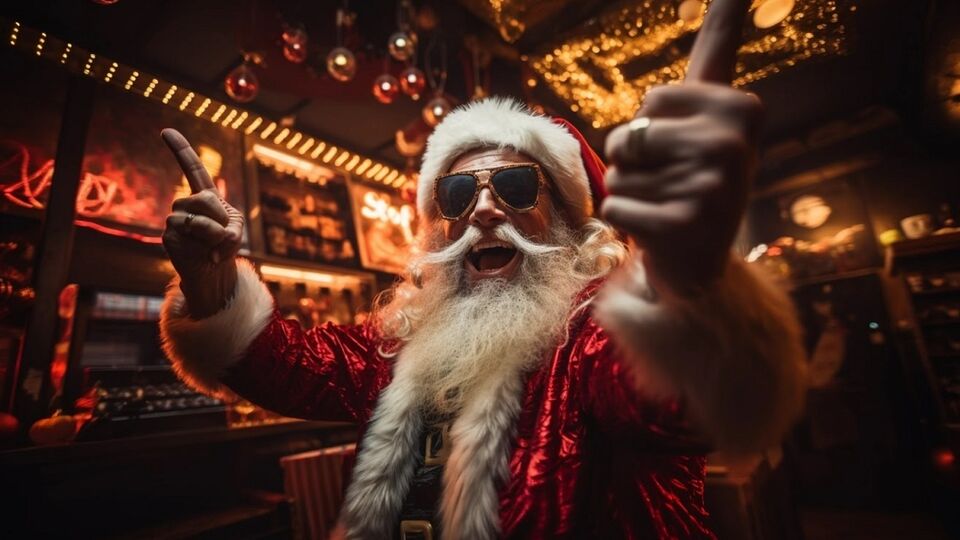 What's on the Humbug dive bar menu?
Keeping things in the festive dive bar spirit there's loaded fries with all the sides and a 'naughty or nice' cocktail menu. 

Signature Humbug serves include 'The Grinch' (rum, peach schnapps, blue curacao and pineapple juice) and the 'Bah F*****g Humbug' (rum, chocolate liqueur, oat milk, crushed Oreos and whipped cream, topped with a mince pie).
When and where is Humbug open?
Humbug is popping up on Leake Street from 15 November until 6 January. There are matinee performances at 2pm, and evening shows from 7pm.
You can access Leake Street via York Road, or via The Sidings centre at Waterloo Station.
Tickets are now on sale and cost from £19.50 for general admission or £29.50 for dedicated booth seating. Book yours at humbugchristmas.co.uk.