Who doesn't love a quirky Christmas decoration?! We're all for collecting unusual shiny baubles, after all a statement bauble for your tree is a fun way to express your personality.
South Bank's many indie boutiques and beautiful museum shops have some fantastically unique Christmas decorations on sale this festive season. Here's a look at our favourites - and where to buy them.
Locally-inspired 
You can't go wrong with a London icon, especially a super shiny one to hang on your Christmas tree. The London Eye, Big Ben, red buses or pigeons – choose your fighter!
For quirky Christmas bling with a London flavour, the glittery glass baubles modelled on the London Eye, Big Ben and London's red buses hit the spot. Spotted on sale in Southbank Centre Shops and at the National Theatre Bookshop.
If you prefer more robust (read 'child-friendly') baubles, Victoria Eggs' wooden black, white and red Christmas range includes a black cab, bearskin-hatted queen's guard, double-decker bus and those elusive old-fashioned phone boxes. Available at Brand Academy at Oxo Tower Wharf.
For brutalism fans, the National Theatre has immortalised its iconic brutalist architecture in an NT-shaped Christmas bauble. Now on sale at the National Theatre Bookshop in a variety of colours.
Fun and quirky
From candy canes and espresso martinis to gingerbread men and bedazzled sausage dogs, the sequined tree decorations from Accessorize are super fun. The 2023 London snow globe design makes a great Christmas souvenir! Find Accessorize on the concourse at Waterloo Station (next to M&S).
For something softer there's a wide range of felt decorations, including gingerbread men and Christmas puddings, but we particularly like the loveable little dancing felt brussell sprouts, spotted at the Southbank Centre Shop on Nelson Mandela Walk. So darn cute!
For a bold pop of colour and a mix of classic and quirky designs, Oliver Bonas' beaded baubles really make a statement. Choose from a classic ball embellished with beads and embroidery or one of the fun beaded ornaments that this year include a cosy ginger cat and a festive Champagne coupe glass. Find Olive Bonas on the balcony at Waterloo Station.
Classical elegance
Planning on having a plastic-free Christmas this year? These paper baubles on sale Southbank Centre shops are wonderfully elegant and perfect for those looking for an anti-bling Christmas aesthetic that's 100% recyclable. The range of folded paper garlands also make a neat alternative to tinsel.
Adorned with hand-drawn designs, Victoria Egg's fine bone china baubles include regal-themed designs paying homage to Queen Elizabeth II and Charles III's coronation and the elegant Love is Love bauble. Available at Brand Academy at Oxo Tower Wharf.
For those who like the elegance and colour of classic glass baubles, check out Olive Bonas' collection of recycled glass baubles in a variety of shapes, sizes and colours at Waterloo Station.
Pagination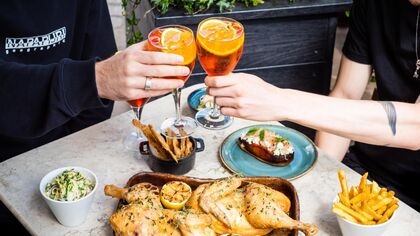 You might also like...