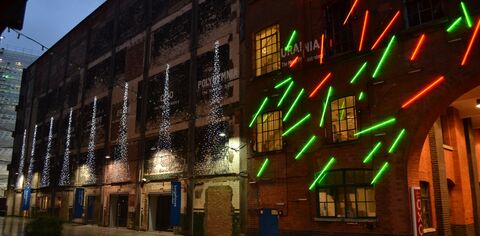 Bargehouse
This old warehouse is an atmospheric space for pop-up exhibitions, art fairs and other creative events.
Opening Hours
Bargehouse only opens during special exhibitions and events. See the official website for details on what's coming up.
Contact Info
Address

Bargehouse, Barge House Street, London, UK
This raw warehouse space forms part of Oxo Tower Wharf. Facing the Oxo Tower building across a bright courtyard, the building was once a derelict old factory site and was brought back to life in the 1990s as an events venue. 
Set over four storeys, it's used as an atmospheric space for exhibitions, fairs, screenings, immersive theatre and other artistic events. In particular, Bargehouse is a popular place for art and design colleges and universities to host their graduate shows in the early summer.
In the autumn and winter, it is the venue for popular annual events such as the London Illustration Fair and the London Design Festival. Adding to the warehouse's appeal, many of the events hosted here are free to enter.
For coffee after a visit to one of Bargehouse's exhibitions head over to Caffe Nero in the courtyard or walk over to the nearby Gabriel's Wharf, known for its quirky independent shops and restaurants.