Craving refined Chinese cuisine with stunning riverside view? County Hall's new restaurant Peacock has just the thing!
Launched by Shanghai's Linjiangyan restaurant group, Peacock is the group's first London restaurant, joining a collection of upmarket restaurants in Shanghai and Chengdu.
Led by a top kitchen team trained in China, the restaurant aims to bring the most authentic flavours of regional Chinese cuisine right into the heart of central London.
What's the space like?
The Peacock restaurant occupies an impressive river-facing space in the historic County Hall building. A standout is the long curved dining room with huge windows looking right out onto Big Ben and Westminster Bridge. The view is particularly impressive at night when the bridge and parliament are lit up. Book for a window seat and enjoy the show!
The décor pays homage to the building's Edwardian history with soaring ceilings and grand wood-panelled walls, while the turquoise upholstery nods to the Peacock name.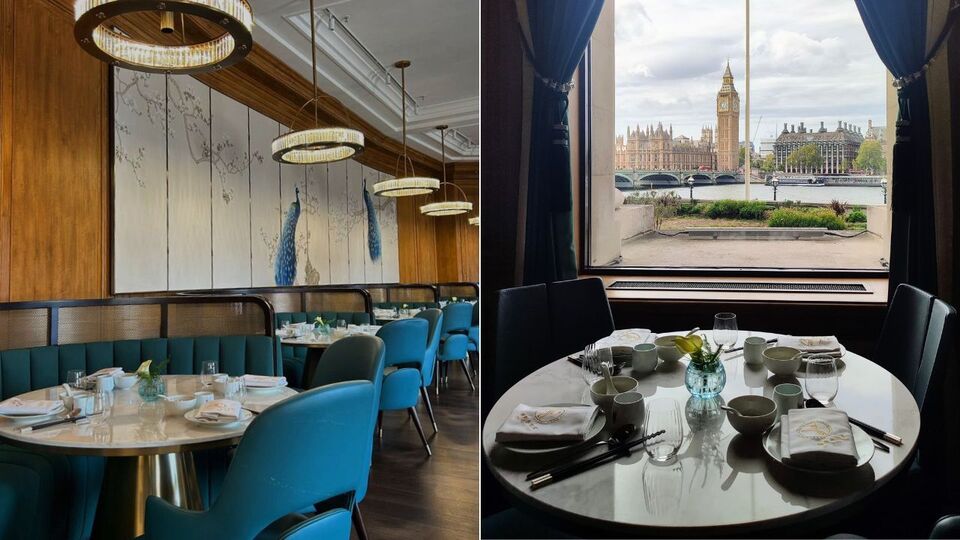 What's on the menu?
An upmarket dim sum menu is served all-day. There's an emphasis on luxurious ingredients so expect to see lots of options like lobster Cheung fun, morel mushroom and truffle dumplings and iberico and foie gras gyoza.
The evening dining menu also features lots of decadent options including wagyu beef stir fry, Scottish dived scallops and Canadian crab. For special occasion dining the restaurant's specialty is the Forbidden City duck served three ways.
When's it open?
Peacock is already open for bookings, Mon-Thu 11am-10pm, Fri and Sat 11am-11pm.
Browse the menu and book a table at peacocklondon.com