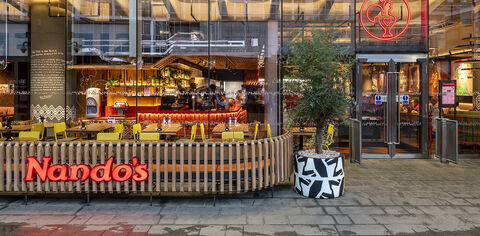 Nando's Waterloo – The Sidings
Contemporary South African art and design meet sizzling peri peri chicken at this colourful spot.
Contact Info
Address

Nando's Waterloo - The Sidings, London, UK
You can never go wrong with a cheeky Nando's, especially at this lively new branch (opened summer 2023) at The Sidings, just a 5-minute walk from the London Eye.
On the menu are all the usual Nando's favourites as well as some enticing extras that you'll find only at a few other branches such as bottomless Rubro (delicious rooibos ice tea) and a dedicated self-serve peri peri sauce pump (try the new garlic BBQ flavour).
What makes this branch of Nando's particularly enticing is the colourful and spacious interior design. There's an ample terrace out front and inside a broad choice of small tables and larger booths, including quiet corners that are an ideal spot to huddle down for a lunchtime chat with your colleagues.
The atmosphere is contemporary cool with dozens of original artworks created by emerging South African artists lining the walls. Meanwhile, the chic geometric furniture, tiles, counters and even the statement light fittings were all custom-designed by South African designers.
In recognition of its proximity to one of London's biggest hospitals, all NHS staff get 20% off their bill at Nando's Waterloo – The Sidings. This is also a solid family favourite with high chairs for the little ones and a great kids menu for the 'Nandinos'.
For those who aren't familiar with The Sidings, the new lifestyle and shopping centre that adjoins Waterloo Station, you can find it directly below platforms 20-24 of the station. Alternatively, you can access The Sidings from the famous South Bank graffiti hotspot Leake Street right next door, while the world-famous London Eye and the riverside Queen's Walk are just five minutes away across York Road.