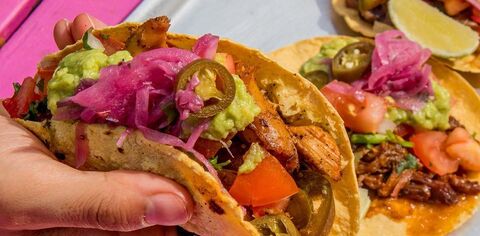 Hola Guacamole
A quirky little kiosk at Gabriel's Wharf serving up Mexican street food.
Opening Hours
Mon–Thu 11:30am–4pm
Fri & Sat 11:30am–8pm
Sun 11:30am–5pm
Contact Info
Address

Hola Guacamole, Gabriel's Wharf, London, UK
Hola Guacamole is a London-born street food chain specialising in Mexican burritos, quesadillas, nachos, tacos and fajitas. 
In South Bank you can find Hola Guacamole serving up Mexican flavours from a little kiosk inside the Gabriel's Wharf  courtyard next to the Oxo Tower Wharf.
Everything is made fresh according to their own secret recipes and of course the freshly made guacamole is a signature.
Grab a seat on one of the picnic tables in the courtyard or get your food to go and enjoy it while walking the Queen's Walk or enjoying the shade of one of the trees in the Bernie Spain Gardens next door.