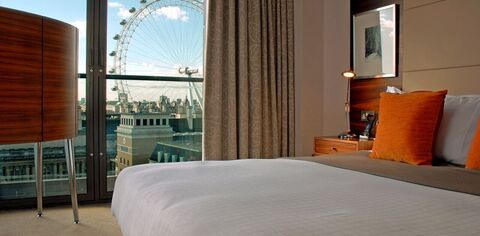 Park Plaza County Hall
Classy 4-star hotel in a prime central location
Contact Info
Address

Park Plaza County Hall, Addington Street, London, UK
Friendly, spacious, contemporary and ideally located in the centre of everything, this four-star hotel ticks all the boxes.
Park Plaza County Hall London's 14 floors contain 399 rooms and suites, all of which offer ample space, fantastic amenities and superior views of London's iconic landmarks. Some rooms look out towards the Oxo Tower and the Shard, while from others you can spy the Houses of Parliament and the London Eye.
The hotel is ideally set up for business or leisure travel with desks in the rooms, plenty of meeting spaces across the building and great leisure options including an on-site fitness centre and spa.
For dinner or drinks head to the Atrio Restaurant and Bar, a modern Mediterranean restaurant with a terrace. Atrio serves up meals as well as light bites and drinks and on weekends you can enjoy brunch here.
Recognising that South Bank is one of London's most popular tourist destinations for families, the hotel caters to family travellers with family suites, kids menus at the restaurant and special goodie bags at check-in that include an activity book and crayons, quiz and 'Park Plaza money' that the kids can spend in the spectrum bar.