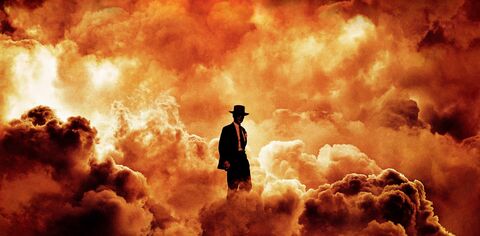 Oppenheimer at BFI IMAX
Watch Christopher Nolan's epic film in 70mm on the UK's biggest screen
Dates
This event has ended.
21 Jul - 27 Sept 2023
Location Info
Address

BFI IMAX, London, UK
One of the biggest blockbusters of 2023, there's no more thrilling venue to watch Christopher Nolan's epic Oppenheimer than at the BFI IMAX in South Bank.
Based on the Pulitzer Prize-winning biography American Prometheus: The Triumph and Tragedy of Robert Oppenheimer, Nolan's film stars Cillian Murphy, in his sixth collaboration and first leading role with the filmmaker.
Robert Oppenheimer was the 'father of the Atomic Bomb'. Seen as a hero to many, within a few years Oppenheimer would be vilified as a turncoat and a threat to his country.
Co-starring a host of Hollywood A-list stars including Matt Damon, Robert Downey Jr, Emily Blunt and Florence Pugh, Nolan's film looks at the daring race to build the first nuclear weapon, Oppenheimer's challenging personality and turbulent personal life and the the efforts to destroy the world-leading physicist's reputation in the years following the war.
This is the first IMAX film to be shot in both colour and black and white and there is arguably no better place to enjoy this extra special 70mm cinematic experience than at the UK's biggest screen, the BFI IMAX.
Due to huge demand, the film has been screened at the IMAX for almost two months in a row and more screenings continue to be added!