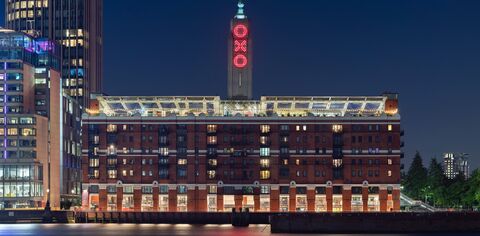 Open House Festival 2023
This year the free annual London-wide festival comes to South Bank.
Dates
This event has ended.
06 Sept - 17 Sept 2023
Ticket Information
All events are free but booking is essential as space is limited.
Location Info
Address

Oxo Tower, Barge House Street, London, UK
Open House is an annual festival organised by Open City that sees hundreds of private homes, offices, studios and other interesting London spaces opening up to the public.
The free event is a celebration of London's eclectic architecture and neighbourhoods and an opportunity to learn more about the city's unique history and contemporary culture from a different perspective through drop-in open days, guided tours and other activations at venues across the city.
This year South Bank is delighted to be joining the Open House Festival 2023 with free walking tours, open artisan workshops and the chance to explore one of the UK's most important centres for the restoration of ancient books and manuscripts. Browse and book from hundreds of events happening across London as part of Open House 2023 at programme.openhouse.org.uk
Here's a look at what's on the Open House Festival programme in South Bank:
LAMBETH PALACE LIBRARY OPEN DAY
Sat 9 Sep from 10am 
Opened in 2021, the high-tech Lambeth Palace Library adjoins the historic home of the Archbishop of Canterbury and is the home of the Church of England's priceless archive of centuries-old books and manuscripts.
On Saturday 9 September from 10am-3pm the library hosts an Open House open day with hourly guided tours of the building and the world-class restoration studios. The day ends with a talk at 4pm at the rooftop lecture hall titled: Preserving History, Embracing Change: Creating LPL. Book your place here.
UNIT 1.20 OPEN DAYS
Open days on Sat 9 Sep, Sun 10 Sep and Sun 17 Sep  
Unit 1.20 is a workshop, showroom and teaching space for a small team of leatherworkers at Oxo Tower Wharf. For Open House the workshop opens to the public for a series of free drop-in workshops and open days where you can learn about the ancient art of bespoke leather shoe-making. Book your place here.
WALKING TOUR - LOST AND HIDDEN ARCHITECTURE OF SOUTH BANK 
Fri 8 Sep 11am–2pm and Fri 15 Sep 11am–2pm 
This 2.5 hour guided walking tour showcases South Bank's unexpected and hidden architectural landmarks, both historic and contemporary, and along the way the extraordinary stories that have shaped South Bank's past and present identities are revealed. Book your place here.