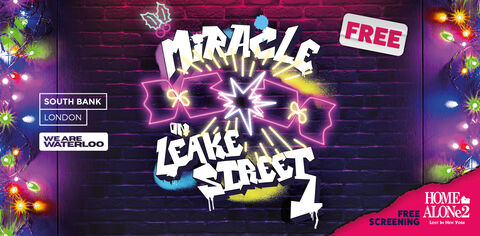 Miracle on Leake Street
London's favourite alternative Christmas event is back with a huge festive street party.
Dates
07 Dec - 07 Dec 2023
Ticket Information
This event is free, but donations will be collected on the night for Waterloo Foodbank
Location Info
Address

Leake Street Arches, Leake Street, London, UK
The Waterloo and South Bank community alternative Christmas event is back for a 5th year, turning the famous Leake Street graffiti tunnel into a festive party venue for one night only! Best of all the entire event is free!
Kicking off from 6pm on Thu 7 December the evening is packed with free entertainment for the whole (urban) family including everything from graffiti workshops to festive market shopping. With other highlights of the colourful street party including a festive film screening, DJ Santa and even a snowboard simulator, the transformation of Leake Street Arches into London's coolest Christmas hangout will be complete!
Highlights of this year's free Miracle on Leake Street party include:
A cabaret performance from the award-winning artist, Pi the Mime.
A free film screening of 'Home Alone 2 – Lost in New York' on a giant pop-up cinema screen inside the tunnel.
A free graffiti workshop led by Leake Street Arches Artist-in-Residence, Marc Craig. Under his expert tuition, attendees will be able to leave their own mark on the tunnels' walls!
A free drop-in Christmas wreath-making workshop.
Free festive face painting for the kids.
A snowboard simulator for (big) kids to ride with leaderboard prizes for the highest scores. There's also a snow machine too creating artificial snow flurries in the tunnel!
A real-life Santa DJ-ing outside Leake Street's speakeasy dive bar Humbug.
This free event is run by WeAreWaterloo and South Bank London and will be held at Leake Street Arches from 7-9pm. Donations made by cash and card throughout the evening will go to Waterloo Foodbank.