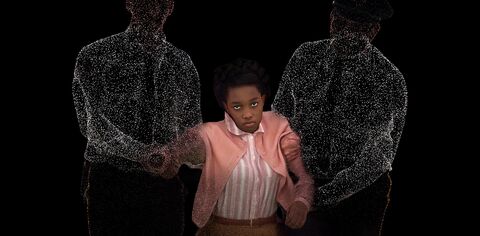 LFF Expanded
The 4th edition of this ground-breaking exhibition presents the very latest VR, XR and AR art projects.
Opening Hours
The exhibition opens 11am-9pm.
Dates
This event has ended.
06 Oct - 22 Oct 2023
Ticket Information
Tickets £20, concessions £15, 25 and under £10.
Location Info
Address

Bargehouse, Barge House Street, London, UK
Taking place as part of the London Film Festival (LFF), LFF Expanded is a fully immersive exhibition that invites audiences to explore and experience powerful new ways of telling stories on screen, created by some of the world's leading mixed-reality artists.
This year the atmospheric Bargehouse at Oxo Tower Wharf is the venue for the extraordinary LFF Expanded exhibition that comprises nine original projects created by artists from across the world.
The exhibition programme includes the exciting Virtual Reality adventure The Imaginary Friend, made using state-of-the-art holographic filmmaking techniques, Flow, an adaptation of Adriaan Lokman's award-winning painterly 3D short film and Forager, a VR documentary about fungi that incorporates sight, sound, touch and scent.

The programme also presents powerful real-life experiences in new ways, such as Murals, a poignant VR trail through Banksy murals created on the frontlines of the war in Ukraine and The Fury, which confronts the trauma and turmoil of a woman enduring political imprisonment in Iran.
The role of AI and our willingness to submit to unchecked surveillance is put under the microscope in Karen Palmer's award-winning XR Experience Consensus Gentium, while Things Fall Apart is an innovative mixed-reality musical installation that incorporates spatial VR technology and AI-generated imagery to transform W.B. Yeats' 1919 poem The Second Coming.
As this is a fully immersive experience, booking is essential and tickets are time-specific.
LFF Expanded free events
As part of LFF Expanded, visitors to South Bank can also enjoy Fleeting Figures, a free interactive smartphone-led AR walk along the Queen's Walk that brings South Bank's public spaces to life in new ways.
Also free to view is Guy Maddin's surreal and all-encompassing augmented reality installation, Haunted Hotel, that is on show at the Gallery@OXO from 4 – 9 October.