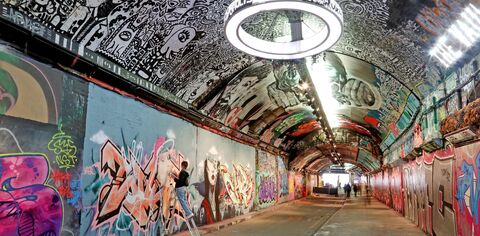 Graffiti Workshops at Leake Street
Join 2023 Leake Street artist-in-residence Marc Craig for a hands-on graffiti workshop.
Opening Hours
01 Jan 2023 - 01 Jan 2024
Thu, Fri, Sat and Sun throughout 2023.
Ticket Information
Adults £45
Kids under 18 £35
Contact Info
Address

Leake Street Arches, Leake Street, London, UK
As part of his year-long residency at Leake Street, 2023 artist-in-residence Marc Craig (aka Max The Virus) leads a series of hands-on graffiti workshops at London's famous graffiti tunnel.
The workshop sees Marc Craig guiding guests through the process of creating a graffiti masterpiece. With a blank canvas waiting for you on one of the iconic walls of Leake Street, you'll be given easy-to-follow instructions on how to use a spray can to bring your vision to life. The workshop includes a brief tour of the vibrant Leake Street graffiti scene and Marc will also reveal how to create a mesmerising Graffiti Galaxy that you can take home with you.
There's no need to worry about protective gear as masks, gloves and overalls are all provided.
The workshop is open to all ages above 8 and lasts two hours. Spaces on each workshop are limited to 30 and are available on a first come first served basis.