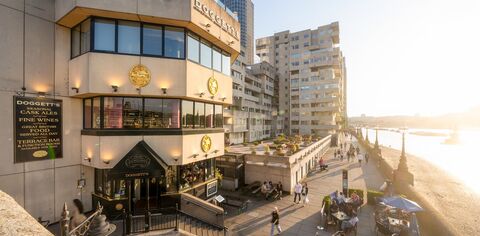 Doggett's Coat & Badge
A classic riverside pub with great views that spreads over three floors.
Opening Hours
Sun–Wed 10am–11pm,
Thu–Sat 10am–midnight
Contact Info
Address

Doggett's Coat And Badge, Blackfriars Bridge, London, UK
For a classic pub experience right on the river, Doggett's Coat and Badge next to Blackfriars Bridge is the place. 
The name is a tribute to Thomas Doggett, the organiser of the London Bridge to Chelsea rowing race. First held in 1715, it is said to be the oldest continuous sporting event in the UK.
A Nicholson's Pub, Doggett's has a fantastic range of quality cask-conditioned ales on tap and a classic British pub food menu. The building itself is a typical post-war concrete construction that gives little away from the outside – inside Doggett's is far bigger than you might at first think.
The pub spreads over three floors including a fantastic terrace stacked with views right over the river. It's also a family-friendly pub making it a convenient pit stop while strolling the Queen's Walk with the kids.