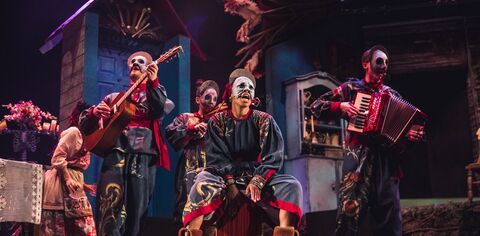 The House with Chicken Legs
A funny and imaginative adaptation of the charming children's novel by Sophie Anderson.
Dates
13 Dec - 30 Dec 2023
Location Info
Address

Queen Elizabeth Hall, Belvedere Road, London, UK
The Olivier-nominated theatre company Les Enfants Terribles and HOME Manchester present this funny and thought-provoking adaptation of Sophie Anderson's much-loved novel. 
A heart-warming coming-of-age tale, this colourful show featuring puppets, projection and live music is perfect for tween audiences with a rich imagination.
The story follows Marinka, a young girl who dreams of a normal life, where she can stay somewhere long enough to make friends. But there's one problem – her house where she lives with her kind and wise granny has chicken legs and moves on without warning.
This stage show has been touring the UK and makes its London debut at the Southbank Centre just in time for the festive season.
Full of life and song, this is an entertaining and magical production that navigates the complexities of loss and growing up from a whole new perspective.