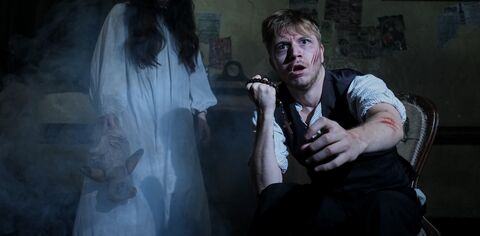 The Exorcism of Peter Moore
The London Dungeon presents a petrifying new show especially for Halloween.
Dates
This event has ended.
13 Oct - 04 Nov 2023
Ticket Information
The London Dungeon entrance tickets cost from £29.50
Location Info
Address

London Dungeon, Westminster Bridge Road, London, UK
Launching on Friday 13th for a limited time, this petrifying new show at The London Dungeon sees guests come face to face with a man who has been usurped by demons from beyond – and his desperate family who are trying to save him.
Peter Moore's wife Katherine and brother Thomas have pleaded for help from the outside but have been left abandoned. With all other options exhausted, you are the Moore family's last and only hope to help exorcise the spirit that has taken possession of his body and his home.
Do you dare face the haunting spirits and the childlike phantom that has a grip on the house?
The London Dungeon is considered the 'Home of Halloween' in London, with 16 horrifying shows and thrilling underground rides to experience, and this newest one looks to be one of the scariest yet!