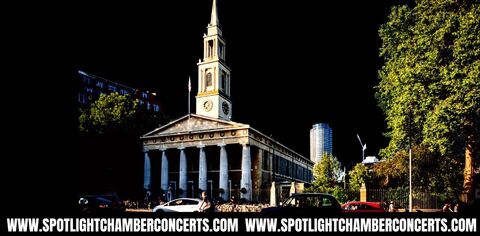 Spotlight Chamber Concerts
This winter the St John's Waterloo church hosts the stirring Spotlight Chamber Concerts series.
Opening Hours
The performances start promptly at 6:30pm and last approximately 65-75mins.
Dates
03 Nov - 10 Dec 2023
Location Info
Address

St. Johns Church, Waterloo, Waterloo Road, London, UK
Taking place inside the beautifully restored St John's Waterloo church, the five concerts in this winter's Spotlight Chamber Concerts series promise an intense and immersive live music experience with dramatic lighting centred only on the performers, and the audience seated in the dark and in the round.
The series consists of five concerts each led by different soloists and ensembles.
Fri 3 Nov at 6:30pm Spotlight Chamber Concerts: Benjamin Grosvenor & Hyehoon Park
The series opens with pianist Benjamin Grosvenor and his violinist Hyeyoon Park performing Vaughan Williams' Lark Ascending (originally for piano and violin) and Takemitsu's Distance de fée and Grieg's fiery Violin Sonata No. 3.
Sat 11 Nov at 6:30pm Spotlight Chamber Concerts: Steven Osborne
The acclaimed pianist Steven Osborne performs Schubert's Six moments musicaux, D. 780 and his Sonata in A major, D. 959.
Sun 19 Nov at 6:30pm Spotlight Chamber Concerts:  Anthony Friend &  the Maxwell String Quartet
Clarinettist and Artistic Director Anthony Friend is joined by the Maxwell String Quartet performing their piece Gather, a 'musical foraging project' of Scots folk music, followed by Brahms' Clarinet Quintet in B minor, Op. 115.
Sun 26 Nov at 6:30pm Spotlight Chamber Concerts: Emmanuel Despax
French Pianist Emmanuel Despax performs Chopin's incredible set of twenty-four Préludes and the monumental Bach-Busoni Chaconne in D minor.
Sun 10 Dec at 6:30pm Spotlight Chamber Concerts: Solem Quartet
For the final concert in the Winter 2023 series, the Solem Quartet, play Beethoven's sublime Quartet in A minor, Op. 132 and give the London première of a new quartet based on the Beethoven Devotions by the young British composer Edmund Finnis.

(Photo by Matthew Johnson Photographer for Spotlight Chamber Concerts)