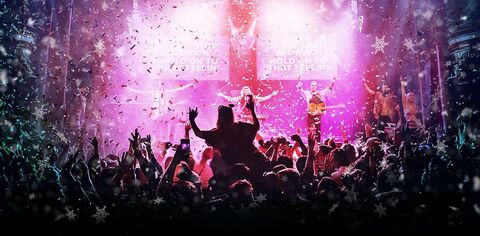 Massaoke Christmas Live
The masters of mass singalongs are back with a Christmas party special.
Dates
This event has ended.
24 Nov - 24 Nov 2023
Ticket Information
Tickets cost £6 and include a drink.
Location Info
Address

Between the Bridges, The Queen's Walk, London, UK
Sing along to your favourite Christmas hits with the relentlessly energetic Massaoke rock band leading the way at this festive edition of the popular party night.
If you're too shy to get on stage and sing karaoke on your own, there's no need to fear. At massaoke the whole audience gets to singalong together, as loud as they want, with the lyrics up on display on a huge screen. Melodramatic lip-syncing and air guitar moves are of course highly encouraged too.
This is a group exercise so expect plenty of fun call and response (and thankfully no audience requests), a couple of synchronised moves, lighters in the air moments, and with it being Christmas, a very generous sprinkling of glitter.