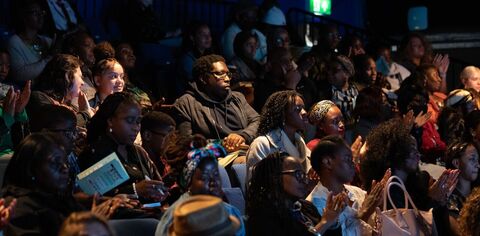 London Literature Festival 2023
Now in its 16th edition, the longest-running literature festival in London returns to Southbank Centre this October.
Dates
This event has ended.
18 Oct - 29 Oct 2023
Ticket Information
Ticket prices vary and the festival includes numerous free events.
Location Info
Address

Southbank Centre, London, UK
Uniting readers of every age to celebrate the written and spoken word, the London Literature Festival presents talks, readings and discussions by prestigious authors, rising literary stars and leading cultural observers.
Across its twelve-day programme, London Literature Festival showcases the diversity of British culture around the UK. The festival also honours the local literary communities of London, both championing London's emerging talent and reflecting on the experience of living in the city.
Festival highlights from the bumper 2023 programme include an opening night of spoken word performance by poets making waves across London's spoken word scene curated by George the Poet, a gala day presented by the National Poetry Library featuring poetry by Roger McGough CBE and Brian Patten, and British legend of the screen and stage Sir Patrick Stewart presenting his autobiography.
Among some of the most famous writers at the festival this year, look out for celebrated novelist, photographer and critic Teju Cole presenting his latest novel Tremor, Dylan Thomas Prize-winning author Brian Washington presents his new novel Family Meal and Ian Rankin discussing his new thriller The Rise. Several stars are also in the mix with Kerry Washington, Jada Pinkett Smith, Nick Frost and Simon Pegg also all presenting new memories at the festival.
As part of this year's festival, the Southbank Centre hosts the Black British Book Festival, the Debut London Literature Showcase (platforming debut titles from new London-based writers) and the New Poets Collective Showcase which reveals the work made over the Southbank Centre's year-long poetry development programme.
The London Literature Festival coincides with the October half-term and there are plenty of events for families including Jacqueline Wilson presenting her latest work The Best Sleepover in the World, bestselling author Zeb Soanes narrates his magical story for children, Fred and the Fantastic Tub Tub, with live music by the Orpheus Sinfonia and Jeffrey Boakye introduces his fun new adventure Kofi and the Rap Battle Summer.
View the festival guide on Southbank Centre's website here for a full rundown of the 60+ events happening at this year's festival and book your tickets.