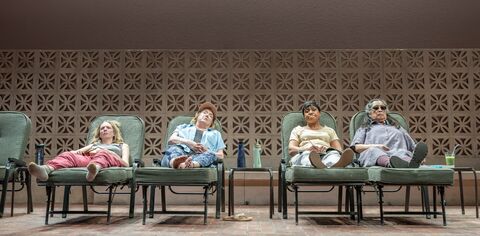 Infinite Life
Pulitzer-winning playwright Annie Baker presents a brand new play about chronic pain and the process of aging.
Dates
22 Nov - 13 Jan 2024
Location Info
Address

National Theatre, London, UK
This brand-new work from Pulitzer Prize-winning playwright Annie Baker (The Flick, The Antipodes) comes to the National Theatre's Dorfman Theatre stage, straight on the back of a New York summer debut at the Atlantic Theater Company.
Annie Baker's latest work is a surprisingly funny inquiry into the complexity of suffering and illness, that is set in the gardens of a California health spa, where the play's central cast are all undergoing a days-long water-only fast.
James Macdonald directs this bold, dreamlike story of five older women and one man who spend the duration of the play lying outside on sun loungers and philosophising about how to reconcile their wants and needs with the physical pain and afflictions that their bodies have thrust upon their lives.
What the reviews say:
"a trippy vision of profound truth... It is another extraordinary play from a writer seemingly capable of nothing else". - TimeOut
"Annie Baker's new play is exquisitely acted and intensely humane." - The Standard
"Annie Baker's play about women in pain is full of small wonders" - Independent
"An exquisite and funny portrait of women... Baker's women are the real thing - complex and contradictory" - The Times
"This is a terrific play, understated yet rich, utterly engrossing". - WhatsOnStage