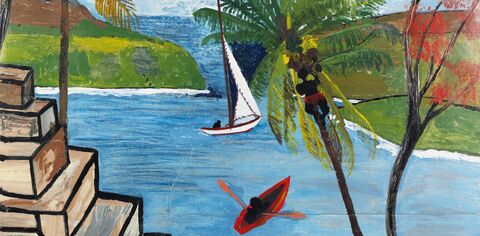 Frank Walter: Artist, Gardener, Radical
This stunning exhibition celebrates the work of the Antiguan artist, writer and environmentalist.
Dates
04 Oct - 25 Feb 2024
Ticket Information
Tickets £14, discounts for students, pensioners, children
Location Info
Address

Garden Museum, Lambeth Palace Road, London, UK
A spectacular exhibition of the landscape and nature paintings of Antiguan artist, writer and environmentalist Frank Walter (1926–2009).
One of the most significant Caribbean visual artists of the 20th and 21st centuries, Frank Walter was a prolific artist whose work explored environmentalism, Caribbean and Black identity, social justice and the complexity of nature.
Walter had an extraordinary career that saw him channel his irrepressible intellectual curiosity into a variety of mediums and subject matters, including painting, drawing, photography, and sculpture; exploring landscapes and memory, flora and fauna, Antiguan society, scientific concepts, and more. Curated by Professor Barbara Paca Ph.D O.B.E, the exhibition features more than 100 never-before-seen paintings and sculptures.
Aside from his artistic output, Frank Walter led a pioneering and unique life as an environmentalist, intellectual, and philosopher. As a direct descendant of both enslaved persons and plantation owners, he tried to find peace in returning to agriculture as a way of feeding his countrymen who had experienced economic hardship. He became the first Black man to manage a sugar plantation in Antigua, and later ran an (unsuccessful) campaign to become Prime Minister in 1969 on a visionary environmental campaign.
The immersive set design of the exhibition was commissioned by the Garden Museum from the award-winning Jeremy Herbert. The design transports visitors to the warm climate of Walter's 'castle on a hill' studio in coastal Antigua where he spent his later years.
In 1993 Walter established the studio that boasted staggering views of the surrounding countryside and ocean. Finding solace in the wild hills of his ancestral lands, here the artist mostly secluded himself, spending the remainder of his days gardening, writing, and painting.