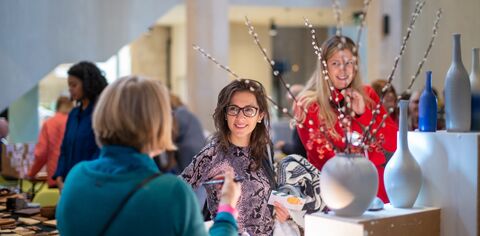 Beautiful and Useful Craft Fair
Shop for gorgeous botanically-inspired gifts by Britain's best designer-makers at The Garden Museum.
Opening Hours
The fair is open 10am-4pm
Dates
This event has ended.
03 Dec - 03 Dec 2023
Ticket Information
Entry costs £5 and includes entrance to the museum collections and courtyard garden (admission to Frank Walter exhibition costs extra)
Location Info
Address

Garden Museum, Lambeth Palace Road, London, UK
The Garden Museum's annual boutique craft fair offers shoppers the chance to support small businesses, meet the makers and buy one-of-a-kind Christmas gifts for friends and family.
The Garden Museum will be filled with a finely curated array of stalls taking inspiration from the shapes, colours and materials of gardens and the natural world, with environmentally friendly methods and sustainability at their heart.
Among the many highlights look out for Aeyglom's small-batch ceramics, colourful embroidery kits and folk art inspired by world textiles from The Fabled Thread and Jane Bevan's vessels and collages created from found natural materials such as feathers and acorn cups.
There's also the opportunity to take part in craft workshops including a Bauble-making workshop with the Folded Side Project and an Embroidery workshop with The Fabled Thread.