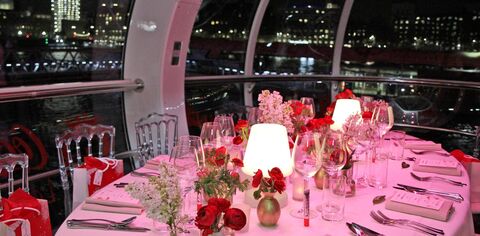 The Lastminute.com London Eye
Hire the lastminute.com London Eye for unforgettable views at 135 metres in the sky.
Contact Info
Address

London Eye, London, UK
Capacities
Reception

3-800

Dinner

2-30
The lastminute.com London Eye is famously known as one of the UK's most visited attractions and a truly iconic part of London's Landscape.
Consisting of 32 capsules, and standing 135 metres high, it's safe to say that hosting your event at the London Eye will offer a totally unique and incomparable experience to that of any other. Whether it is a Private Capsule for just 2 guests, or exclusive hire for 800 – the possibilities are quite something.
This iconic structure provides skyline view across the city which is the perfect backdrop for a birthday celebration, a company incentive or even for those planning to get hitched. It really offers a classic and traditional space to be creative with your guests.