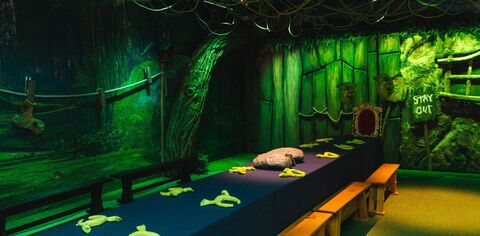 Shrek's Adventure! London
The ultimate laugh out loud event experience.
Contact Info
Address

Shrek's Adventure London, Westminster Bridge Road, London, UK
This is the ultimate laugh out loud event experience, immersing guests in the world of Princess Fiona, Donkey and Shrek, bringing all the fairy dust and fun to complement your drinks reception, party or product launch.
As part of your event package, guests will board the DreamWorks Tours magical flying 4D bus and be whisked away to the enchanted kingdom of Far Far Away. Mayhem and misadventure are guaranteed as guests are immersed in the sights, sounds and smells of the magical kingdom with an added dose of Donkey's cheekiness along the way. The event space brings the Dreamworks franchise to life, with a colourful, lively venue for guests to party the night away alongside the stars of Kung FU Panda and Madagascar with fabulous cocktails, canapes, bowl food and DJ.