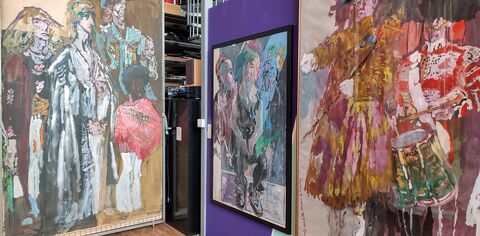 Topolski Studio
Take a guided tour of this fascinating studio of the 20th Century British-Polish artist Feliks Topolski.
Opening Hours
Tours of the studio take place every Sat from 11am-3pm
Contact Info
Address

Topolski Studio, SBC Access Road, Belvedere Road, London, UK
Feliks Topolski is one of the foremost British-Polish artists of the 20th Century. Best known for his reportage work, for most of his career the artist worked from a studio located inside one of the arches underneath Hungerford Bridge next to the Southbank Centre, now maintained by his family as a tribute to the artist's life and work.
Feliks Topolski was a prolific expressionist painter and draughtsman who also worked as an official war artist during World War II. Later he travelled the world sharing reportage illustrations and in addition to painting canvases, he also worked as a theatre set designer.
From his studio space in the South Bank, Topolski worked on his monumental art commissions, such as the epic panorama capturing the coronation of Queen Elizabeth II that is on display in Buckingham Palace, as well as producing his own bi-monthly broadsheet Topolski's Chronicle, published between 1953 and 1979.
The studio was also a meeting place for artists, activists, revolutionaries, punks and princes, whom the prolific portraitist captured on paper and canvas, and every Friday for many years the artist operated an open door policy inviting the public to come in, chat, share ideas and see his latest work.
Nowadays the studio is used as an archive space and regularly hosts art events and classes such as zine-making workshops and life-drawing classes.
Guided studio tours
Every Saturday the studio opens for guided tours led by Feliks Topolski's grandson who has extensive knowledge of the artist's works, life and many inspirations. Tours are liberally peppered with personal memories and anecdotes that add even more colour to an already richly textured life story.
Tours delve deep into Topolski's archives to reveal unique insights into the eclectic array of famous figures from history that the artist connected with during his travels as a journalist and as an artist, such as royal figures like the Duke of Edinburgh and King Charles III, political figures such as Fidel Castro, Che Guevara, Malcolm X, David Ben-Gurion, Nehru, Mussolini and Winston Churchill, and cultural icons including Bob Dylan, Bernard Shaw and Laurence Olivier.