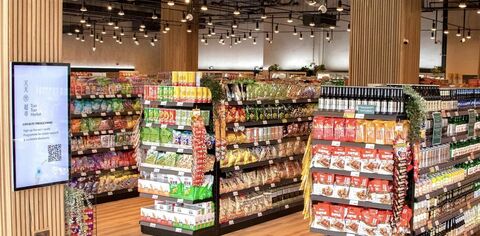 Tian Tian Market
Asian supermarket chain stocking products from 25+ Asian countries.
Opening Hours
Mon–Thu: 11am–9pm
Fri–Sat: 11am–9:30pm
​Sun: 11am–9pm
Contact Info
Address

Southbank Central, Stamford Street, London, UK
An everyday one-stop shop for Asian groceries, Tian Tian Market is the ultimate place to go food shopping if you enjoy cooking Asian cuisine. 
There's a particularly large choice of items from China, South Korea and Japan – including dozens of varieties of ramen and dumplings, as well as meal kits and stir-in sauces from Vietnam, Thailand, Malaysia and beyond.
The fridges are stocked deep with the biggest range of ice teas and imported soft drinks and if you like sweet treats there are plenty of delicious snacks from across Asia to choose from.
If there's a tricky-to-find spice or sauce that you've been struggling to get in the mainstream supermarkets, the chances are you should be able to find it here, and the staff are particularly helpful.