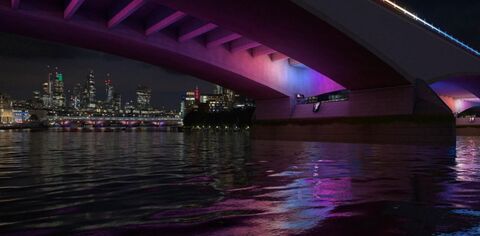 Illuminated River
From the iconic sturgeon street lamps to National Theatre's illuminations, follow this light trail along the river Thames.
We like to think that South Bank is just as, if not more, picturesque at night as it is during the day. This is largely thanks to the abundant illuminations along the riverside, that highlight the many architectural landmarks and also create illuminated features of the city's core infrastructure such as its bridges.
The Illuminated River project by renowned New York-based artist Leo Villareal is one of the most prominent light installations on South Bank's riverside. This long-term art installation transforms the Thames when the sun goes down with an orchestrated series of light works that span nine bridges along the Thames - stretching all the way from Lambeth and Vauxhaull in the west to Tower Bridge in the east.
Working with cutting-edge LED technology and custom software to 'paint with light', Villareal has produced sequenced patterns that subtly unfold across the 4different bridge structures that have gained global critical acclaim.
Inspired by South Bank's illuminated artworks, we have created an Illuminated Art Trail which you can follow starting from Lambeth Palace Bridge or Blackfriars Bridge. You can download the guide and follow along below.
For a comprehensive guide on each of the artworks featured on the trail, click here.