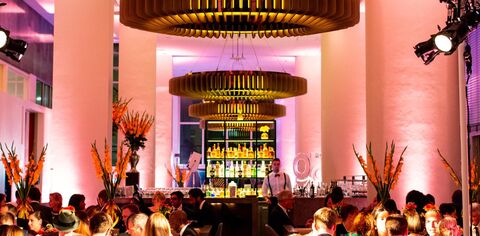 Skylon Restaurant & Bar
Modern British cuisine and fabulous cocktails served in grand surroundings at Royal Festival Hall.
Opening Hours
Tue-Fri: 12pm–9pm (All Day)
Sat: 11.30am– 4pm (Brunch), 6pm–9pm (Dinner)
Sun: 11.30am–5pm (Brunch)
Contact Info
Address

This is a formatted address
Skylon serves up modern British cuisine bringing a seasonal contemporary approach to the kitchen. The restaurant offers stunning views over the Thames from its position on the third floor of the Royal Festival Hall.
Serving up a variety of different menus, including pre-theatre and brunch options, you can also head to Skylon for some fabulous cocktails in the glamorous Grand Central Bar. An ideal choice whether you're looking for post-work or post-theatre drinks.
Skylon takes its name from the iconic structure that was built on the South Bank for the 1951 Festival of Britain. The restaurant's design echoes the style of the Royal Festival Hall during the same period with some contemporary touches, such as the uniquely designed chandeliers and surfaces of bronze, walnut and slate.