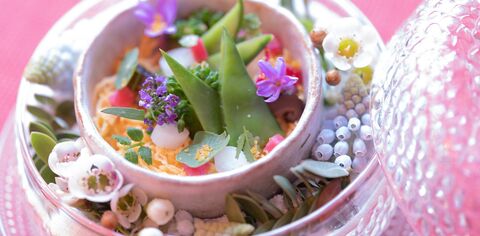 Hannah
An original and unforgettable fine dining omakase experience.
Opening Hours
Wed 6pm-9pm
Thu-Sun 12pm-2pm and 6pm-9pm
Closed Mon, Tue
Contact Info
Address

Hannah Japanese restaurant, Belvedere Road, London, UK
One of London's finest Japanese restaurants, showcasing a dazzling seasonal omakase tasting menu. 
The restaurant, hidden away inside the grand County Hall building, is led by the multi-talented chef and owner Daisuke Shimoyama (former Head Chef at the two Michelin-starred UMU). Shimoyama is also a certified sommelier and one of only a few chefs trained to fillet the notorious and potentially deadly puffer fish ("it has a delicious flavour" he says).
Hannah's complex and beautifully plated seasonal omakase tasting menus, integrate European and Japanese philosophies with the very best of local British produce.
There's a choice of a six-course or ten-course omakase experiences with the option of a sake pairing prepared by Shimoyama. The mouthwatering menus are inspired by the seasons and the best available produce and arrive at your table with a flourish, exquisitely plated on antique British and Japanese pottery.
For those looking for lunch, the restaurant also serves Bento boxes at lunchtimes on Friday, Saturday and Sunday. As with all of Shimoyama's cuisine, these are carefully considered, authentic and wonderfully presented.
A complex, original and unforgettable Japanese fine dining experience.