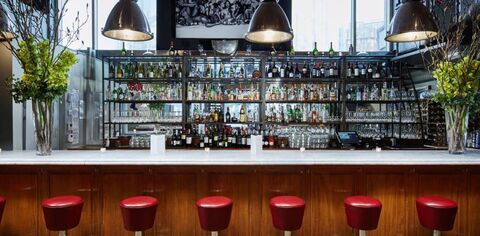 Black + Blue
Chargrilled steaks, burgers and ribs served in a brick-arched dining room.
Opening Hours
Mon: 12pm–10pm
Tue–Thu: 12pm–11pm
Fri–Sat: 12pm–11:30pm
Sun: 12pm–9pm
Contact Info
Address

Black & Blue Waterloo, Mepham Street, London, UK
Directly opposite one of Europe's busiest stations, the Waterloo branch of the Black & Blue steakhouse is an ideal location to meet friends or colleagues for a drink and a bite to eat.
Opened in 1999, this has long been a favourite "any and all occasions" kind of spot for grabbing a meal and a drink between the station and the river, especially as it opens late on weekends.
Key to the Black and Blue's success is the high-quality meats, sourced from butchers Jefferies in Kingston. Over the decades they've also mastered the perfect burger and apparently, their burgers have been made according to the same top-secret recipe for 25 years.